Camcarb continues to be a leader and has just installed a state-of-the-art hydrostatic testing facility complete with factory trained personnel with many years of hands on experience. This is the most advanced facility of its kind in Southern Ontario, with new 2010 Galiso equipment, and is an extremely valuable service for the region. This is unique to the industry since most cylinder fillers currently outsource hydrostatic testing/requalification and cylinder repairs to a third party.
Current industry problems resulting from cylinder fillers outsourcing hydrostatic testing
Estimated 3% of cylinders are lost
Average 6-week turnaround time for testing
Inability to reconcile cylinder quantities
Significant added cost to companies
At Camcarb, we feel that our customers are best served by us offering a complete line of cylinder services, all of which are performed in-house. By doing this, we are able to fill your cylinders and deliver back the exact quantity that we picked up.
Benefits of using Camcarb to perform hydrostatic testing of cylinders and cylinder repairs
We perform DOT approved hydrostatic testing in-house
Your cylinders are always in our control
Zero lost cylinders
100% cylinder reconciliation
Timely turn around
On time delivery
Significant cost savings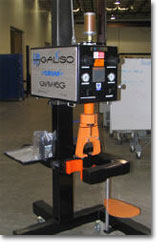 What is Hydrostatic Testing and why is it important?
The cylinder requalification process starts with a careful visual inspection of the cylinder inside and out. Only after a satisfactory visual inspection, do we proceed to the Hydrostatic testing phase. Hydrostatic Testing is a nondestructive test procedure used to check cylinders for leaks, structural flaws, durability, corrosion, and a cylinder's structural integrity. Testing is very important since compressed gas containers can explode if they fail. Testing consists of enclosing a cylinder filled with water inside a test jacket filled with water. Pressure is then applied internally to the cylinder, causing the cylinder to expand. The total and permanent volumetric expansions of the cylinder are determined by measuring the amount of water displaced by the expansion of the cylinder when under pressure and after the pressure has been released. An external and internal visual inspection of the cylinder is also performed, along with a dead-ring test for steel cylinders. Quite often, after hydrostatic testing, the cylinder remains slightly larger than it was prior to the testing phase (known as permanent expansion). In order for the cylinder to pass the hydrostatic test, the permanent expansion must not exceed 10% of the total expansion. For Aluminum and Composite fibre- wrapped cylinders the maximum is 5%, and TC-Metric Aluminum 6% expansion.

All cylinders must be requalified periodically in compliance with Transport Canada, CSA and CGA Standards. Transport Canada sets forth strict regulations regarding the handling, recharging, and transportation of Hazardous Materials. Camcarb is a Transport Canada approved cylinder hydro testing facility and cylinder requalifier, and are authorized to requalify cylinders with test pressures below 7500 Psi. We can test most pressure cylinders, including cylinders up to 18 inch diameter. All cylinders bearing a DOT specification marking must be inspected, retested, and marked in conformance with Transport Canada Standards. The use of properly trained cylinder requalification personnel is essential to ensure unsafe cylinders are removed from service. Designated Camcarb employees are trained and certified in all aspects of cylinder requalification and testing. Our processes and services include:
High pressure cylinder re-qualification using water jacket method (multiple jackets)
Multi-level air filtering system to ensure zero ID contamination due to hydrocarbons
Cylinders are returned O2 clean and ready to fill
Replacement of damaged valves
All de-valved cylinders receive new "O" rings
Camcarb using the latest equipment, such as the latest 2010 Galiso equipment, PCT 122 ADW cylinder invertor, and a SCD 4W drier for small cylinders.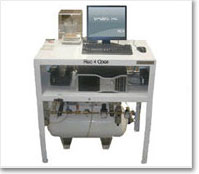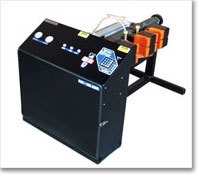 Camcarb commonly tests the following types of vessels:
FRP Cylinders
Industrial
Medical
MSA Cylinders
Scuba Cylinders
Wet / Dry chemical 4B (Kitchen Hood / Industrial Systems)
Aquarium tanks
Recharging & Hydrostatic Testing
All stored pressure and cartridge operated fire extinguishers need recharging and hydrostatic testing at periodic intervals as required in the standard for portable fire extinguishers (NFPAIO). Recharging is the replacement or replenishment of all extinguisher agent and expellant for most types of extinguishers. The following table will help summarize the requirements.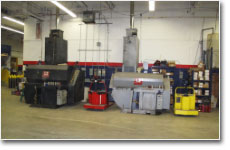 Cylinder Refurbishing
The Camcarb external and internal shot blaster quickly and efficiently strips paint, rust and other surface impurities leaving a superior paint ready surface. In addition, the blasted cylinder can easily be inspected for damage prior to hydrostatic or ultrasonic testing.
You can feel confident knowing that we have been performing hydrostatic testing and cylinder repairs for over 30 years, we use state of the art computerized testing equipment and our staff has extensive training and expertise.