What is Dry Ice?
Dry ice is the solid form of carbon dioxide (CO2), comprising two oxygen atoms bonded to a single carbon atom. It is colourless, odourless, non-flammable, and slightly acidic. At temperatures above -56.4 °C (-69.5°F) and pressures below 5.2 bar, CO2 changes from a solid to a gas with no intervening liquid form, through a process called sublimation. The low temperature and direct sublimation to a gas makes dry ice an effective coolant, since it is colder than water ice and leaves no residue as it changes state.
Camcarb has a one stop approach to dry ice, where you can find all your dry ice and packaging needs fulfilled. Made fresh daily, we provide contaminant-free dry ice in many different varieties:
High Density Pellets
1/8" diameter
For use in dry ice blast cleaning systems
Rice Pellets
1/4" diameter
Used in frozen food applications
Standard Pellets
1/2" diameter
Used in frozen food applications
Used in meat processing plants
Used for transportation of blood plasma and lab specimens
Cut Blocks
Available in custom sizes
Processed and packaged to customer specifications
May be wrapped in Kraft paper or in poly
Block
Standard block measures 10" x 10" x 12"
Approximately 60 lbs. each
Used for frozen food applications, especially in shipping ice cream
Used in grocery warehouses

Dry ice is a versatile product that has a number of commercial and consumer uses:
To remove floor tiles
To remove skin imperfections
In the poultry industry
In the baking industry
To lengthen the life of wet ice
To make fog in the entertainment industry
To shrink metal
To retard chemical catalysts
To improve porosity in oil wells
To pack ice cream on trips
To purge fuel tanks
To store food during shipping
For low-temperature testing
As a mosquito attractant for traps
To keep beer kegs cold
To pack trophy game or fish on the way home
By airline caterers to keep food chilled
By blood banks for shipping
To blast clean rubber and plastic injection molds and food processing equipment
To freeze unstable ground
To germinate food
To freeze water lines without shutoff valves
To blast clean fire damaged buildings
Containers for Shipping Dry Ice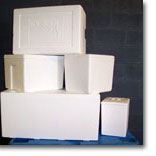 Designed and manufactured for transporting and storing dry ice
Ideal for processing environments
Lightweight construction and heavyweight performance
Innovative seal between lid and container maintains the cold
Thicker, stronger specially formulated, high impact polyethylene meets FDA, USDA and HPB requirements for food handling
One piece, seamless interior with sharp corners improves cube usage
Unique insulated poly bridges bond inner and outer molded shells,adding structural strength
Accessible from four sides by pallet jack and fork lift
Optional molded in identification and post applied logos or graphics
Custom formulated foam in place urethane improves insulation quality, structural integrity and adhesion
Tapered leg design helps to guide fork entry and reduce damage to pallet base
Designed for stacking two high with and without lid
Styrofoam Coolers for Dry Ice Shipping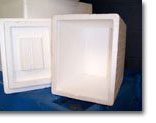 Styrofoam coolers are lightweight and durable, making their use an excellent
method for shipping items frozen on dry ice. Cardboard boxes are available for shipping dry ice. Box sizes are available to fit dry ice Styrofoam coolers.
Superior Dry Ice Shipping Containers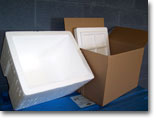 Stainless steel-lined containers for dry ice (food-grade dry ice containers) reduce dry ice sublimation losses by as much as 10% over all-poly containers. To transport dry ice, we use the best containers in the business. Proper box sizes and styles are available to ensure a top-quality product with every dry ice delivery. All food-grade dry ice containers are pressure-washed and sanitized prior to filling.
HR-11 Container System for Dry Ice - available with or without wheels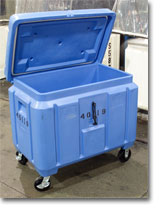 Standard with hinged lid
6" casters
2 rigid/ 2 swivel and 1 flex draw rubber latch
Flex draw rubber latches secure lid to container with two nylon straps and footman loops.